2024 frontrunner? Ron DeSantis' stock soars as Florida governor turns tables on '60 Minutes'
Follow Us SearchSearch Keyword:
SIGN UP FOR OURDAILY NEWSLETTERS
Breaking News AlertsEnter your email address:
FRONT PAGE PODCAST
RECOMMENDED




SPONSORED CONTENT

SPONSORED CONTENTDoctor: "Doing This Every Morning Can Snap Back Sagging Skin (No Creams Needed)"
COMMENTARY

Are Republicans finally ready to win the health care fight?

The COVID-19 crisis is over, what's left is Biden's political theater

Mike Pence
Building on the Trump administration's victories to advance American freedomView all
QUESTION OF THE DAY
Now that Trump has recommended getting the COVID-19 vaccine, will you?
Question of the Day YES NO NOT SURE
View results
STORY TOPICS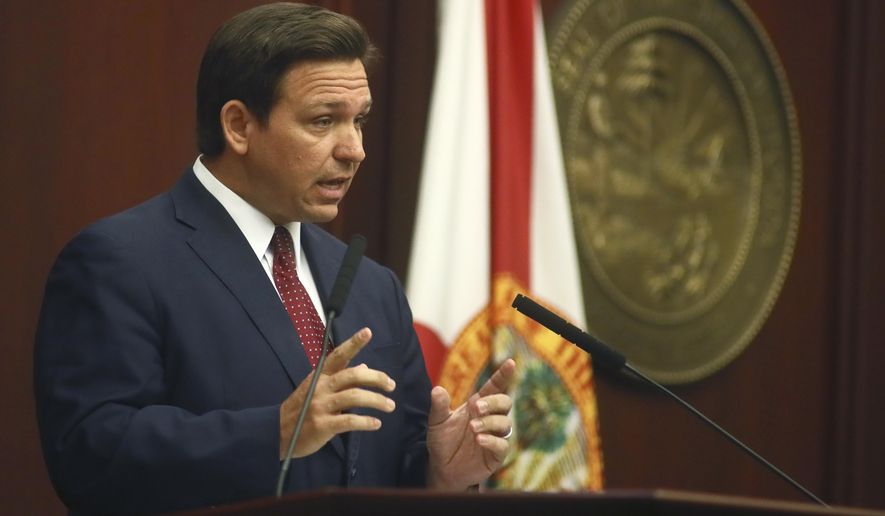 PrintBy Valerie Richardson– The Washington Times – Wednesday, April 7, 2021
Being the target of a "60 Minutes" investigation is supposed to ruin political careers, not raise them, but Florida Gov. Ron DeSantis appears to have turned the tables on the venerable network news show.
The Republican governor's stock has soared as he leads the charge against the 53-year-old CBS News stalwart for a Sunday segment insinuating that he was involved in a pay-to-play scheme to funnel COVID-19 vaccines to the Publix supermarket chain.
Now CBS stands accused of running a deceptively edited, politically motivated hit piece as Florida officials, including Democrats, rally behind the governor, a rising Republican star whose national political prospects have only been bolstered by the backlash.
---
TOP STORIES
Trump was right — everyone can get a COVID-19 vaccination by April
Pennsylvania agrees to remove thousands of dead citizens from voter rolls
EXCLUSIVE: Biden's DHS may restart border wall construction to plug 'gaps'
---
"I think it helps him tremendously for two reasons," said Republican strategist Michael McKenna. "First, it shows that he is a target of the media crowd, which legitimizes him among all sorts of people. CBS only sends '60 Minutes' to hit jobs either on the weak or on people whom they fear. The governor is in the second category."
Instead of dismissing or ignoring the story, Mr. DeSantis has tackled it head-on. He called the segment "horse manure" and "a lie" and blasted network personnel as "smear merchants" running a "fake narrative."
---
---
"Second, the whole episode has shown everyone that he has a considerable amount of grit, which may be the single most important ingredient in political success at this level," said Mr. McKenna, a columnist for The Washington Times and a former Trump White House official.
Media pundits agree, and not just those on the right. Vanity Fair's Charlotte Klein called the uproar "a lucky break for his political ambitions," and CNN political commentator Chris Cillizza said Tuesday that "DeSantis couldn't have written this script any better."
"The report, and the backlash, amount to a massive gift to DeSantis as he looks to his reelection race next year and, he hopes, a 2024 run for the Republican presidential nomination," Mr. Cillizza said.
Conservative media critic Joe Concha roasted "60 Minutes" in a Wednesday column for The Hill headlined "Universally panned hit piece on DeSantis just made him a 2024 frontrunner."
Axios, meanwhile, called the kerfuffle "a political gift" while accusing Mr. DeSantis of "seizing on a juicy chance to ingratiate himself with the GOP base by bashing the media."