<div><br class="Apple-interchange-newline">https://apnews.com/2da549f1cbee9f90cca60751cd32871e</div>Click to copyRELATED TOPICS
Amid virus, uncertainty, parents decide how to school kids
By TAMMY WEBBER and STEPHEN GROVESan hour ago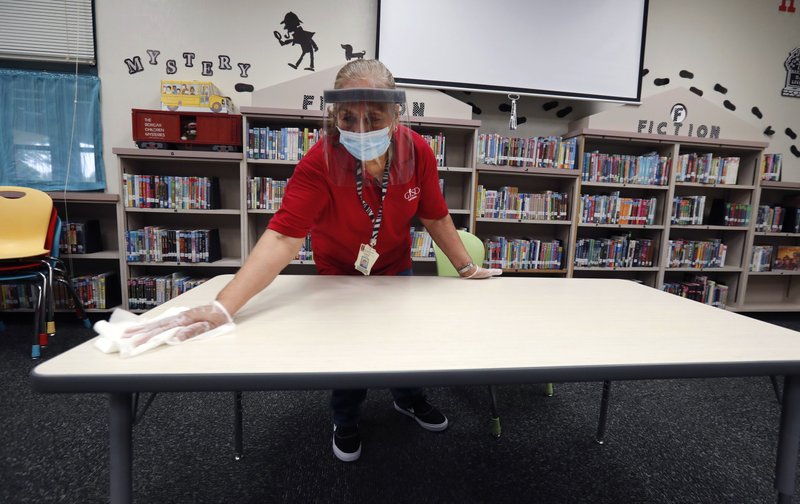 1 of 7Wearing a mask and face guard as protection against the spread of COVID-19, Garland Independent School District custodian Camelia Tobon wipes down a table in the library at Stephens Elementary School in Rowlett, Texas, Wednesday, July 22, 2020.(AP Photo/LM Otero)
Joshua Claybourn is leaning toward sending his kindergarten daughter to in-person classes at a private school next month. Holly Davis' sixth-grade daughter will learn online, though the family has not yet decided what to do for school for a teenage daughter who requires special accommodations for hearing problems and dyslexia and another who's starting college.
As they decide how their children will learn this fall amid the coronavirus pandemic, parents are anxiously weighing the benefits of in-person instruction against the risks that schools could shut their doors again or that their children could contract the virus and pass it on.ADVERTISEMENT
"To say we are stressed might be an understatement," said Davis, of Noblesville, Indiana, whose family is self-isolating after one of their daughters was exposed to COVID-19 at a cross country meet. "We're being forced to make impossible decisions."
Across the country, chaos and disarray have marked the start of the school year as families await directives from district officials and, where they have a choice, make agonizing decisions over whether to enroll their children online or in person — often with very little guidance.
If their kids are not in classrooms, parents will have to line up child care — or find the time to help them learn online. They have no idea if it will be safe to send their children to school — or whether the school doors will open at all or stay open if someone is diagnosed with the virus.
Further complicating decisions, in some public school districts, kids who opt for online instruction won't be able to participate in in-person extracurricular activities.
The decision over how kids will be schooled is particularly fraught in low-income areas and communities of color that bear the doub