'An intentional act': RV in Nashville played a recording warning of bomb before explosion
Follow Us SearchSearch Keyword:
SIGN UP FOR OURDAILY NEWSLETTERS
Breaking News AlertsEnter your email address:
FRONT PAGE PODCAST
RECOMMENDED




SPONSORED CONTENT

RECOMMENDED
The Jan 20 Inauguration Will Change Everything – How to Financially PrepareMortgage Rates Fall Again. Recalculate Your House Payment in a Few StepsGeneticists Say They've Located The Birthplace Of HumanityRed Carpet Fails That Win All The AwardsTruth About Rita Hayworth's Scandalous Fall from GraceWhen Stalin Sent Kgb Agents to Kill John Wayne, He Was Ready and WaitingWould You Recognize Laurie from the Partridge Family Today?Optometrist Stunned: New Discovery Fixes Your Vision Naturally (Watch)This Dark Rumor About Priscilla Presley Has Finally Been ConfirmedThe Bible Made a Monumental Mistake About Jesus – Here's the Detail It Got Wrong
COMMENTARY

Give Christmas thanks, then go vote!

Russian cyber attack underscores need for elected officials to unite against Kremlin

Christmas is a time to be open to God's providenceView all
QUESTION OF THE DAY
Will you trust the results of U.S. elections again?
Question of the Day YES NO NOT SURE
View results
STORY TOPICS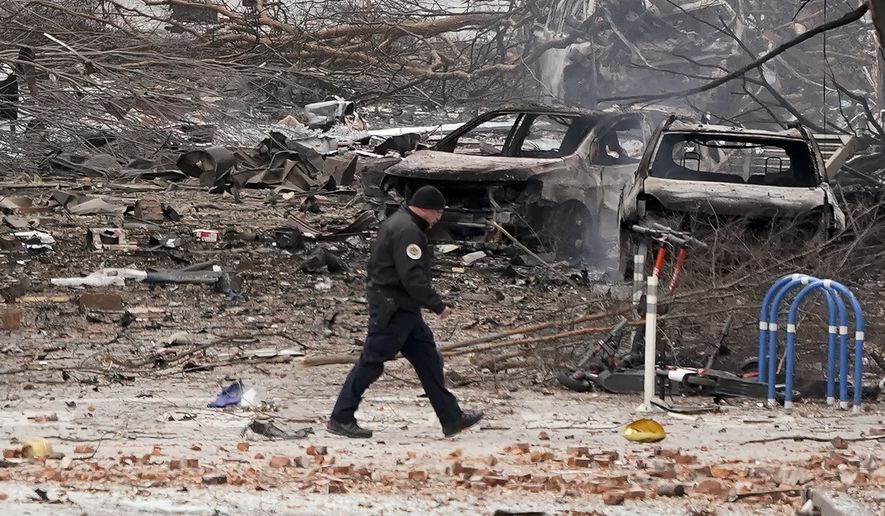 PrintBy Gabriella Muñoz– The Washington Times – Updated: 3:42 p.m. on Friday, December 25, 2020
An explosion in Nashville sent three people to the hospital and destroyed city buildings Christmas morning in what police say may have been "an intentional act."
At a press conference, officials swore to "find out what happened," but do not believe the downtown area is facing any other immediate threats.
"We know of no other imminent danger to the city at this point," Metro Nashville Police Department spokesman Don Aaron said Friday afternoon.
---
TOP STORIES
'An intentional act': RV in Nashville played a recording warning of bomb before explosion
Fauci says he's been intentionally moving goal posts on herd immunity estimates
Trump declares victory in 'War on Christmas'
---
Officials are still conducting a sweep of the area as a precaution.
Smoke billowed out from the scene and could be seen "from miles away" Friday morning, according to the Tennessean.
---
---
The local Nashville paper said police responded to reports of a suspicious recreational vehicle outside an AT&T building, and an officer on the scene "had reason" to notify the Metro Nashville Police Department's hazardous devices unit. They were driving to the scene when the "significant explosion" went off.
MNPD Chief of Police John Drake said officers were responding to a report of shots fired around 5:30 a.m. Central Standard Time when they found an RV with a recording notifying them that a bomb would go off in 15 minutes.
"The officers, upon hearing that, decided to evacuate the buildings," Chief Drake said. "Shortly after that, the RV exploded. We had one officer that was knocked to the ground, a