Biden enjoys post-convention bump in favorability: POLL
Biden's favorability ticked up from 40% just over a week ago to 45%.
ByKendall KarsonAugust 23, 2020, 5:03 AM7 min read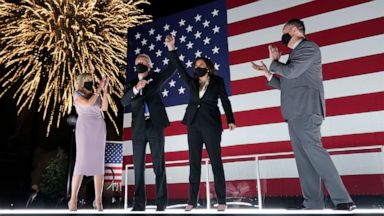 LIVE NOW
ABC News Live
What Would You Do?What Would You Do?Andrew Harnik/AP
The Democratic National Convention, which attracted a smaller audience compared to last cycle, still delivered a favorability boost for Democratic nominee Joe Biden, particularly among the core base of the party, according to a new ABC News/Ipsos poll released Sunday.
Prior to the convention, Biden had a net negative favorability rating, with slightly more Americans having an unfavorable view of the former vice president than a favorable one. In the days after the convention, Biden's favorability ticked up from 40% just over a week ago to 45% in the new poll, which was conducted using Ipsos' KnowledgePanel.
Notably, this change was fueled by the more than 8 in 10 Americans who knew enough about him to form an opinion, since there was little change in the number of Americans who were willing to assess Biden since the ABC News/Ipsos poll last week.MORE: Kamala Harris receives strong marks as Joe Biden's VP: POLL
His favorability climbed to 86% among Democrats from 79% in the last survey. Biden's highest favorability across racial groups continues to be among Black Americans, with 69% viewing him favorably, compared to 39% of whites and 52% of Hispanics.
President Donald Trump's favorability currently stands at 32% — little change from the last poll — but his unfavorability reached 60%, a concerning high for the incumbent president and something Republicans will try to turn around with their convention this week. Vice President Mike Pence's ratings barely moved from last week, with 30% giving him favorable marks and 46% viewing him unfavorably.