Brexit: Firms warn 'clock is ticking' to keep goods moving
By Simon Read
Business reporterPublished1 day agoShareRelated Topics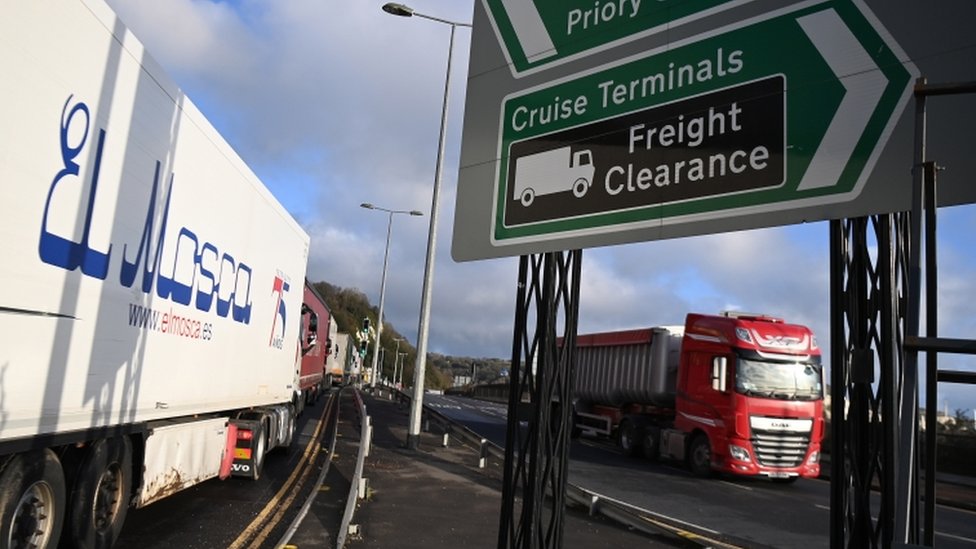 Businesses have given a relieved welcome to the Brexit trade deal, but warned there was more work to be done.
In a statement, Number 10 said: "The deal is fantastic news for businesses in every part of the UK."
But Jonathan Geldart, director general of the Institute of Directors, said "the clock is still very much ticking" for firms and called for guidance.
The CBI called for urgent confirmation of grace periods to give firms time to adapt to new rules from 1 January.
"We need to ensure we keep goods moving across borders," said Tony Danker, CBI director-general.
He said the deal "will come as a huge relief to British business at a time when resilience is at an all-time low".
"But coming so late in the day, it is vital that both sides take instant steps to keep trade moving and services flowing while firms adjust."
Mr Geldart echoed the CBI's concerns and said digesting the practical changes required and adapting "in the middle of a pandemic and the festive season, while border disruptions continue, is a huge ask" for firms.


After a last-minute titanic struggle over the economic minnow that is fish, a deal has finally been landed.
The relief of avoiding no-deal is the perfect Christmas present for UK business. Having avoided what they considered the calamity of no-deal, minds will now turn to the detail in nearly 2,000 pages of text.
And those who d