Carly Fiorina's journey from secretary to CEO
By Dave GordonBusiness reporter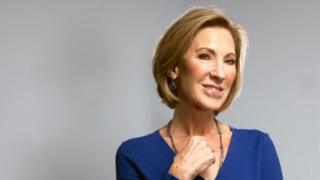 The BBC's weekly The Boss series profiles different business leaders from around the world. This week we speak to Carly Fiorina, US business leader, political figure and philanthropist.
It should give hope to any young person striving to reach the top, knowing that Carly Fiorina started her business career as a humble secretary.
"I spent my time greeting visitors, answering phones, typing memos," she says. "But I was really committed to the job, arriving early, and leaving late."
Mrs Fiorina, 65, is looking back on her 21-year-old self, who in 1976 got her first full-time job at a small property company in Palo Alto, California.
From that modest start she went on to become the first female chief executive of a Fortune 50 company (the 50 largest firms in the US). This happened in 1999 when, aged 44, she was appointed to the top job at computer group Hewlett-Packard.Image captionShe was in her mid-40s when she got the top job at HP
Fortune magazine subsequently named her the most powerful woman in US business five years in a row, with the publication declaring that "Carly Fiorina didn't just break the glass ceiling, she obliterated it".
However, her time at HP was not universally regarded as a success, with much criticism of her decision to merge the business with rival Compaq in 2001. And in 2005 she resigned after a disagreement with her fellow board members.
Mrs Fiorina subsequently entered the political arena, first as an adviser to the late John McCain's 2008 presidential campaign. McCain went on to lose the election to Barack Obama.
Eight years later, she herself ran to become the Republican Party candidate for the 2016 presidential election. She dropped out after nine months, due to low polling numbers, with Donald Trump going on to win both the candidacy and, of course, the presidency. She said at the time that she was "horrified" by Trump.Image captionShe married her husband Frank in 1985
Born in 1954 in Austin, Texas, her family moved around a lot, due to her father's job. Her dad, Joseph Sneed, was a law professor who went on to become US deputy attorney general. Her mother was a painter.
She got a degree in philosophy and medieval history from Stanford University in California, before gaining a Master of Business Administration from the University of Maryland.
In 1980 she entered the technology sector when she joined US giant AT&T as a management trainee. Her rise at the company was meteoric. By 1990 she was the firm's first female vice president, and by 1995 she was a senior director at AT&T