<div><br class="Apple-interchange-newline">https://apnews.com/article/pandemics-virus-outbreak-health-belgium-europe-bc630f14e102c8d249356ab9912d2e77</div>Click to copyRELATED TOPICS
Divided Belgium among Europe's worst virus hotspots
By RAF CASERTyesterday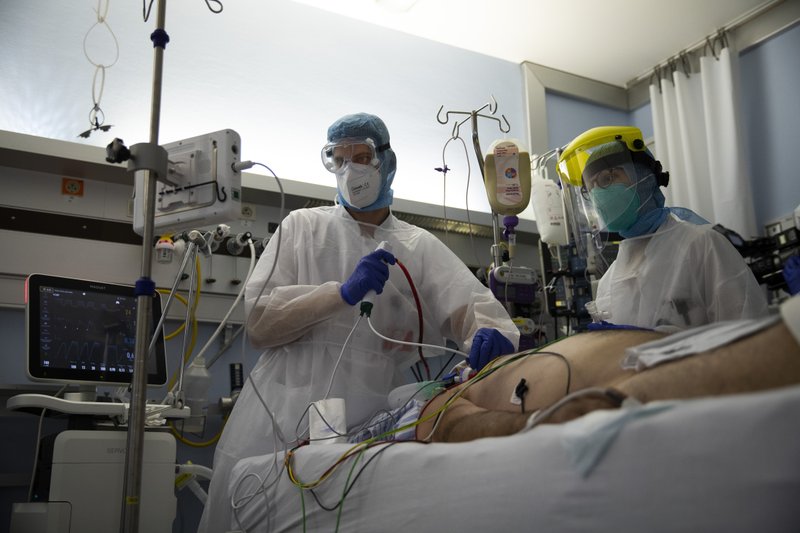 1 of 9FILE – In this Wednesday, Oct. 21, 2020 file photo, medical staff work in the intensive care ward for COVID-19 patients at the CHR Citadelle hospital in Liege, Belgium. Small, yet so divided, Belgium is hit hard again by the pandemic, and now has some of the worst results to show in Europe during the resurgence of the Coronavirus, it is revealed Tuesday Oct. 27, 2020. (AP Photo/Francisco Seco, File)
BUIZINGEN, Belgium (AP) — Small, yet so divided, Belgium has been hit hard again by the pandemic, and now presents some of the most worrying statistics in a continent reeling under a coronavirus resurgence.
If ever there was a common enemy for the rival Dutch- and French-speaking citizens and regions to fight, this would surely be it. But even now cooperation goes against the grain in Belgium, to the extent that the prime minister had to intervene with a special address to the nation Wednesday, pointing out that exceptional circumstances demand exceptional measures — namely: total unity.
"As of midnight, with immediate effect, just about everywhere the same measures will apply. The last thing we need today is division and a scattered order of battle," Alexander De Croo told Belgians. "We should not let ourselves be divided."
His appeal came after talks with regional leaders, who so often bicker and stall and leave rudderless a nation with a federal and three regional governments which are responsible for an area barely 300 kilometers (185 miles) at its widest reach.
After protracted disagreements between the linguistic groups that left Belgium without a fully functioning government for nearly 500 days until De Croo became prime minister of a 7-party coalition one month ago and now, it was time to stand together.
"The only battle we have to fight is with the virus, which knows no bounds of language or color, age or gender," De Croo said.
This week, news struck that the European Centre for Disease Prevention and Control had recorded Belgium — shoehorned in between Germany, France and the Netherlands — as having the highest 14-day cumulative number of COVID-19 cases per 100,000 citizens, just surpassing the Czech Republic.MORE COVID-19 NEWS: