Donald Trump Block Shows Twitter 'Must Not Like Democracy,' Says Parler CEO John Matze
BY JASON MURDOCK ON 1/8/21 AT 10:21 AM ESTAdvertisement 0:29https://imasdk.googleapis.com/js/core/bridge3.433.1_en.html#goog_1429348907SHARETECH & SCIENCEDONALD TRUMPTWITTER
The CEO of Parler, a social media platform favored by conservatives, has said Twitter's blocking of Donald Trump suggests it "must not like democracy."
John Matze—who co-founded the website in 2018—made the comment on Thursday in response to the president's daughter, Tiffany Trump, who shared a statement released by her father that pledged an "orderly transition" to Joe Biden later this month.
Trump's statement was issued on Thursday via the White House communications chief Dan Scavino as the president was facing a 12-hour Twitter block for policy-breaking posts made as his supporters stormed the Capitol Building on Wednesday.
"What ever happened to freedom of speech?" Tiffany Trump wrote on Parler, attracting thousands of comments and shares, including from Matze, who has repeatedly pitched his platform as a "free speech" alternative to mainstream social networks.NEWSWEEK SUBSCRIPTION OFFERS >
"You won't find it on the Twitters with all those bird brains in charge," Matze replied to the president's daughter in a comment, adding: "They are not a platform but a publisher. They don't want free speech and as a byproduct they must not like democracy… we must liberate ourselves from their manipulation and dystopian tactics of control."https://parler.com/post/f0f633744a6e4f1d8cfbf949d2b2ac9a
It was the latest criticism against his more-established rival. Matze said earlier this week the decision to block Trump had been made by "cowardly authoritarians."
The president's Facebook and Twitter accounts were each blocked on Wednesday after he used them to post false claims of election fraud and publish a video message that described the rioters as "special" and included the phrase "we love you."NEWSWEEK SUBSCRIPTION OFFERS >https://frontend.1worldonline.com/widget/smart3-d09641f5.html#!/widget/414ca465-64ed-4713-81d6-53334bd3c4c8&type=widget&mode=smart3&code=414ca465-64ed-4713-81d6-53334bd3c4c8&token=414ca465-64ed-4713-81d6-53334bd3c4c8-1&location=https%3A%2F%2Fwww.newsweek.com%2Fdonald-trump-parler-ceo-john-matze-twitter-block-demoracy-free-speech-1560018
The video was pulled from Twitter, Facebook and YouTube as the Capitol Building siege continued. Trump's Twitter was restored on Thursday following a 12-hour timeout, but the site warned that future violations would result in a permanent suspension.https://platform.twitter.com/embed/index.html?dnt=false&embedId=twitter-widget-0&frame=false&hideCard=false&hideThread=false&id=1346970431039934464&lang=en&origin=https%3A%2F%2Fwww.newsweek.com%2Fdonald-trump-parler-ceo-john-matze-twitter-block-demoracy-free-speech-1560018&siteScreenName=newsweek&theme=light&widgetsVersion=ed20a2b%3A1601588405575&width=550px
This means that the account of @realDonaldTrump will be locked for 12 hours following the removal of these Tweets. If the Tweets are not removed, the account will remain locked.— Twitter Safety (@TwitterSafety) January 7, 2021
Facebook CEO Mark Zuckerberg said Trump's page was blocked "indefinitely," or for at "least the next two weeks until the peaceful transition of power is complete."
Facing political pressure and the threat of another impeachment, Trump returned to his Twitter on Thursday and posted a scripted video that called the Capitol attack "heinous" and said that the people responsible "do not represent" the country.
Despite multiple family members being active on Parler, President Trump himself does not appear to have created an account on the platform at the time of writing.READ MORE
Matze said in a separate comment on Thursday that America is "already lost" if speech has to be restricted or censored in order to keep the country safe.
He wrote: "If one man's voice is a threat to our nation but his holding of the presidential office is not, then it is apparent the powers of the presidency are less powerful than a single voice. Why should any of us settle [for] giving up our rights to free speech?"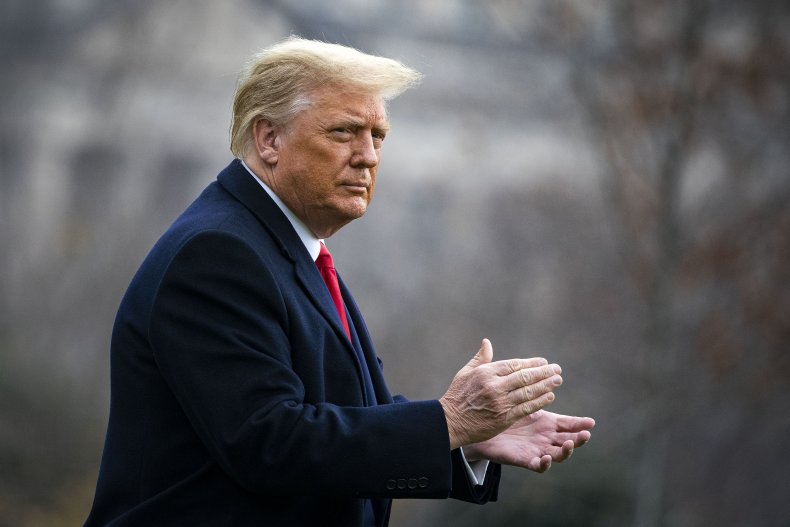 REQUEST REPRINT & LICENSING, SUBMIT CORRECTION OR VIEW EDITORIAL GUIDELINESLoading…SPONSORED CONTENT
Do This to Legally Erase Your Credit Card Balances (It's Genius)FINALLYZEROLegal Steroid Turning Men Into Beasts Even Without The GymDOMINXTOver-The-Counter Adderall Alternative, And It's Stronger!MIND TECHThere Are a Few GMOsWhat makes the list for GMO crops? How are they are used?FDA.GOV1 Cup Of This Daily Burns 13 Lbs Of Fat Weekly – Even No ExerciseKETO DIETCozy Senior Living In Riverside: The Prices May Surprise YouSENIOR LIVINGThe Early, Visible Signs & Symptoms Of Mesothelioma On The Body74-Year-Old Grandma Shocks Doctors: Forget Botox, Do This!LUSH LIFT CREAMPopular in the CommunityAdChoicesSponsored
https://5dd33dfe60079a385b3af5ef84af9fd0.safeframe.googlesyndication.com/safeframe/1-0-37/html/container.htmlTHE DEBATE

Democrats and Liberals Must Get Back To Economic BasicsBY BATYA UNGAR-SARGONVS

Democrats Must Emphasize Boldness, Not ModerationBY ISSAC BAILEYOPINION