Emmy Awards 2020: Stars prepare to dial in for virtual ceremony
By Steven McIntoshEntertainment reporter
Related Topics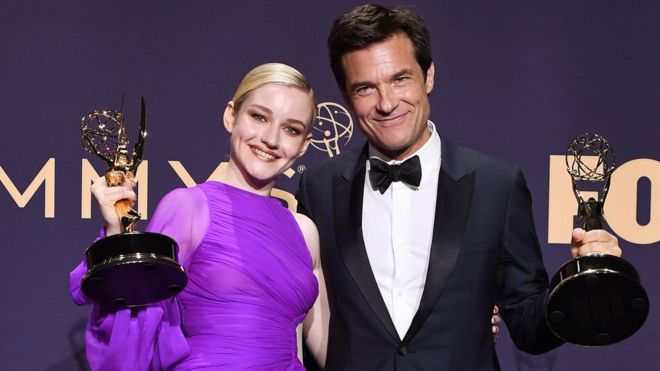 TV stars are preparing to dial in to this year's Emmy Awards, which will take place as a virtual ceremony later.
The usual star-studded event has been scrapped amid the coronavirus pandemic, so winners will accept their awards at home, or wherever they happen to be.
HBO's superhero series Watchmen leads the nominations, despite plans for a second series being ditched.
Jimmy Kimmel will return to hosting duties after the Emmys opted to go without a compere in 2019.
The talk show host will oversee proceedings from Los Angeles on Sunday evening, with UK nominees and fans learning the winners in the early hours of Monday.
Here's what to expect from this year's Primetime Emmys:

A different looking ceremony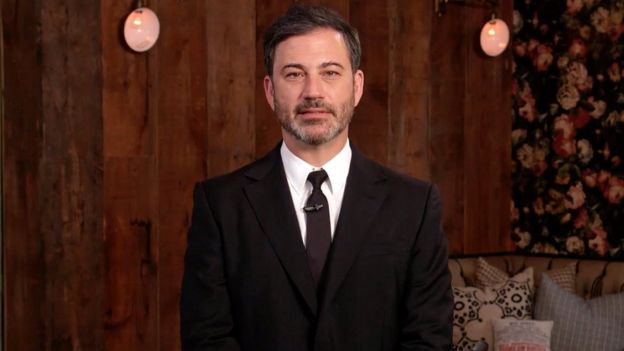 This year will mark Kimmel's third time hosting the Emmys, after he fronted the ceremony in 2012 and 2016.
In a letter to the nominees in July, ceremony organisers confirmed this year's event would go digital.
"As you've probably guessed, we're not going to be asking you to come to the Microsoft Theatre in downtown LA on September 20th," they said.
"This year, it's still going to be TV industry's biggest night out… but we'll come to you! We are assembling a top notch team of technicians, producers and writers to work closely with Jimmy Kimmel and with you and your team, to make sure that we can film with you (and loved ones or whomever else you choose to be with) at your home, or another location of your choice."
Speaking to BBC Breakfast earlier this week, Succession actor Brian Cox said nominees had been told Emmy producers would send staff to personally deliver trophies to the winners in their homes.
"There's going to be a man standing outside the door with an Emmy, which I may not win!" said the star, who is nominated for best drama actor. "Every Emmy nominee – there'll be a man standing outside their house."

Watch out for Watchmen