Far-right provocateur vs. Florida congresswoman in November
By TERRY SPENCERtoday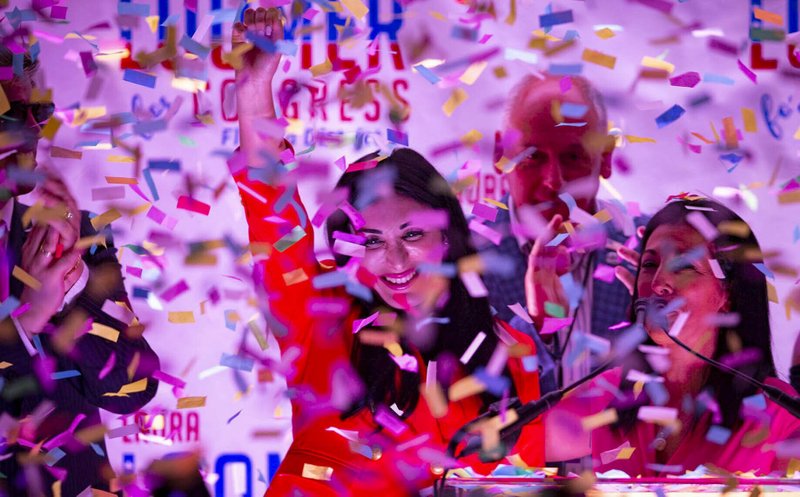 1 of 6Republican congressional candidate Laura Loomer celebrates an election night event at the airport Hilton in West Palm Beach, Fla., Tuesday, Aug. 18, 2020. Loomer, a far-right Republican candidate banned from social media sites because of her racist and anti-Muslim speech, won a congressional primary in Florida while embracing her role as a general election underdog in a heavily Democratic district that President Donald Trump calls home. (Allen Eyestone/The Palm Beach Post via AP)
FORT LAUDERDALE, Fla. (AP) — A far-right Republican candidate banned from social media sites because of her racist and anti-Muslim speech is celebrating a congressional primary victory in Florida while embracing her role as a general election underdog in a heavily Democratic district that President Donald Trump calls home.
Incumbent Lois Frankel, 72, has been a political fixture for decades in the Palm Beach County district, where the only Republican to ever run against her, in 2016, lost by 27 percentage points.
But that didn't stop 27-year-old Laura Loomer from trumpeting her resounding win over five other candidates Tuesday in the Republican primary. Loomer received 43% of the vote, or 14,500 votes out of a total of 34,000 votes cast.ADVERTISEMENThttps://ab530e804989d6bb2d74ae3479a80386.safeframe.googlesyndication.com/safeframe/1-0-37/html/container.html
"WE FLIPPED CANCEL CULTURE ON ITS HEAD," Loomer wrote on Parler, a right-wing site similar to Twitter where she describes herself as the "MOST BANNED WOMAN IN THE WORLD."
Trump, whose Mar-a-Lago residence is in the district, tweeted his congratulations early Wednesday: "Great going Laura. You have a great chance against a Pelosi puppet!" he wrote, referring to Democratic House Speaker Nancy Pelosi.
In fact, the odds are seriously against Loomer.
The candidate "is something of a celebrity in far-right circles, which may have helped her in her primary, but this is not really a district that is competitive at the general election level," said Kyle Kondik, an editor at the University of Virginia's Center for Politics. Barack Obama and Hillary Clinton each won the district during the 2012 and 2016 presidential elections by about 20 points, Kondik noted.
According to federal records, Loomer raised $1.1 million for her primary campaign, a hefty sum for an underdog challenger. She currently has about $200,000 left. Frankel has raised about $866,000 for this campaign, but with money left over from previous elections, her campaign has more than $1 million available. Frankel, running against a political newcomer in Tuesday's Democratic primary, received 75,000 votes, or 86% of the 87,000 votes cast.
The incumbent said Wednesday t