Accessibility links
Search the BBCSearch the BBCNews
BBC News Navigation
US & CanadaselectedADVERTISEMENT
Heat ray 'was sought' against protest in Washington's Lafayette Square
Related Topics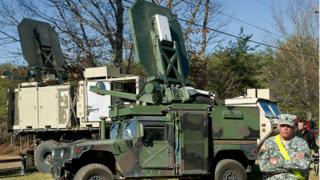 Officers requested a "heat ray" weapon for possible use against protesters in a park next to the White House in June, a National Guard major has said.
Military police allegedly asked the National Guard for the Active Denial System (ADS), which makes targets feel their skin is on fire.
It happened before Lafayette Square was cleared of people protesting against the killing of black man George Floyd.
The National Guard did not possess the heat ray and it was not used.
Law enforcement officers are instead believed to have used tear gas, rubber bullets and smoke grenades to clear the park on 1 June.
At the time authorities said it was to tackle violent protesters who had thrown rocks at police and started fires. Reporters at the scene however said the demonstration had been peaceful.
Park Police have denied using tear gas, saying that they instead fired "pepper balls" – projectiles with capsaicin, the chemical that gives peppers heat – at protesters.
Shortly after officers cleared the park, US President Donald Trump walked across the street from the White House for a photo opportunity outside a church.
The clearance of the protesters to make way for Mr Trump drew heavy criticism from both Democrats and Republicans, and Washington DC Mayor Muriel Bowser called it "shameful".
What did the major say?