Hong Kong: Tens of thousands defy ban to attend Tiananmen vigil
Related Topics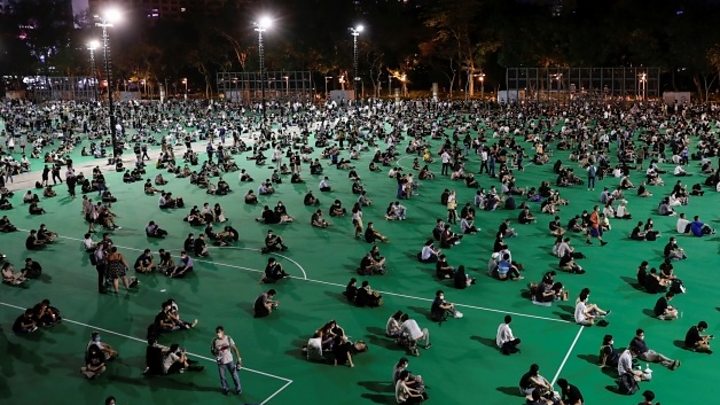 Tens of thousands of demonstrators in Hong Kong have defied a ban to stage a mass vigil for the victims of the 1989 Tiananmen Square crackdown in Beijing.
Officers erected barricades around the city's Victoria Park, but some pro-democracy protesters knocked them down and held candlelit gatherings.
Police banned the vigil this year, citing coronavirus measures.
Earlier, lawmakers approved a controversial bill making it a crime to insult China's national anthem.
Ahead of the vote, two legislators were taken away by security guards after throwing a foul-smelling liquid on to the chamber floor.
They said they were protesting against China's growing control over Hong Kong, and also marking the Tiananmen Square anniversary.
The latest events come as the Chinese government is drawing up a new security law for Hong Kong, a move that threatens to raise tensions even further.
Why was the Tiananmen vigil banned?
Hong Kong and Macau are the only parts of China that have been allowed to mark the killings.
An annual vigil has been held in Hong Kong since 1990. On the mainland, references to the crackdown are banned, and the government mentions it rarely – if at all.
On 4 June 1989, troops and tanks opened fire on pro-democracy protesters in Beijing – estimates of the dead vary from a few hundred to several thousand.