Israel and UAE strike historic deal to normalise relations
Related Topics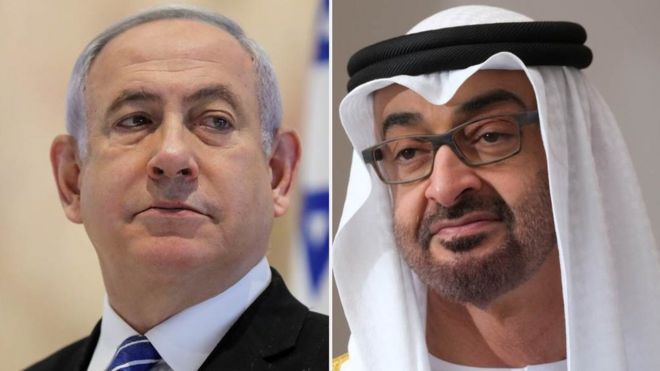 Israel and the United Arab Emirates have agreed to normalise relations, US President Donald Trump has announced.
A joint statement by Mr Trump, Israeli PM Benjamin Netanyahu and Abu Dhabi Crown Prince Mohammed Al Nahyan said they hoped the "historic breakthrough will advance peace in the Middle East".
As a result, they added, Israel would suspend its controversial plans to annex parts of the occupied West Bank.
Until now Israel has had no diplomatic relations with Gulf Arab countries.
However, shared concerns over Iran's regional influence have led to unofficial contacts between them.
In response to President Trump's announcement, Mr Netanyahu tweeted in Hebrew: "Historic day."Skip Twitter post by @netanyahuhttps://platform.twitter.com/embed/index.html?creatorScreenName=BBCWorld&dnt=false&embedId=twitter-widget-0&frame=false&hideCard=false&hideThread=false&id=1293924443086114819&lang=en&origin=https%3A%2F%2Fwww.bbc.com%2Fnews%2Fworld-middle-east-53770859&siteScreenName=BBCWorld&theme=light&widgetsVersion=223fc1c4%3A1596143124634&width=550px
יום היסטורי 🇮🇱 https://t.co/4mD6DzoTvE— Benjamin Netanyahu (@netanyahu) August 13, 2020
End of Twitter post by @netanyahu
Mr Netanyahu said he had "delayed" West Bank annexation plans, but those plans remain "on the table".
In a TV address, he said Israel would co-operate with the UAE in developing a coronavirus vaccine, and in energy, water, environmental protection and many other fields.
The UAE's ambassador to the US, Yousef Al Otaiba, said the deal with Israel was "a win for diplomacy and for the region".
"It is a significant advance in Arab-Israeli relations that lowers tensions and creates new energy for positive change," he added.ADVERTISEMENT