'Justice needs to be served': Minneapolis businesses put principles first
WHY WE WROTE THIS
Minneapolis' small businesses were already having a precarious 2020 because of the pandemic. Then 1,500 were burned or looted during outrage over George Floyd's killing. Instead of anger or self-pity, many say their life's work can't compare to a lost life.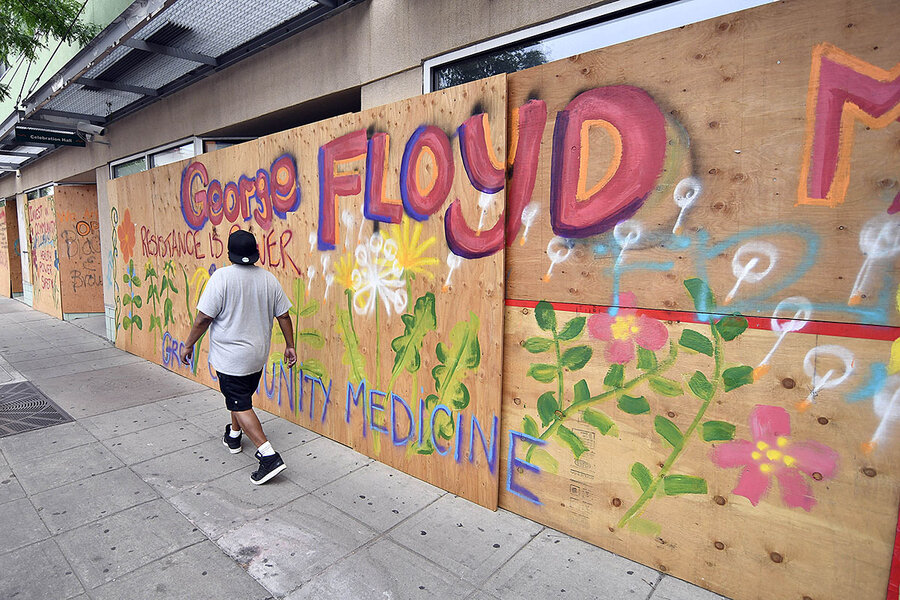 Jim Mone/APA pedestrian passes a colorful painted tribute to George Floyd on a boarded-up business June 18, 2020 in the Longfellow neighborhood of Minneapolis.
July 17, 2020
TWO WAYS TO READ THE STORY
QUICK READ
DEEP READ ( 7 MIN. )
A desire for racial justice and a distinct lack of self-pity unite small business owners in Minneapolis' Longfellow neighborhood as they attempt to recover from the fires, looting, and vandalism that damaged or destroyed almost 1,500 businesses in the Twin Cities.
The neighborhood of 5,000 residents – a mix of young families, downtown workers, and retirees – absorbed perhaps the heaviest blow of any in Minneapolis and St. Paul. The casualty list includes grocery, drug and department stores, dozens of restaurants and cafes, the post office, a medical clinic, and a 200-unit affordable housing complex that was under construction.
Residents have rushed to ease the hardship of businesses by cleaning up debris and contributing to recovery funds and GoFundMe campaigns for rebuilding efforts. Yet for Longfellow business owners, many of them people of color, the outpouring neither obscures nor alleviates an uncertain future as the coronavirus clogs the economy and the city struggles with enduring racial inequities.
"Most people who run small businesses don't see it as only a job," says Jamie Schwesnedl, co-owner of Moon Palace Books. "They're part of the neighborhood, and their customers are their neighbors. The way we see it, we're in this together."
Related stories
Give us your feedback
Next Up
1 of 3 stories this month > Get unlimited stories