Major powers clash at United Nations General Assembly meeting
By Jay Jackson, Taiwan Sun
26 Sep 2020, 03:21 GMT+10
Three major world powers butted heads in a virtual showdown at the United Nations on Friday.
"In such a challenging moment, major countries are even more duty-bound to put the future of humankind first, discard Cold War mentality and ideological bias and come together."
"Unilateral sanctions and long-arm jurisdiction needs to be opposed in order to safeguard the authority and sanctity of international law."

NEW YORK, New York – Three major world powers butted heads in a virtual showdown at the United Nations on Friday.
"In such a challenging moment, major countries are even more duty-bound to put the future of humankind first, discard Cold War mentality and ideological bias and come together in the spirit of partnership to tide over the difficulties," Chinese Foreign Minister Wang Yi said at the start of the session which was to discuss international cooperation on the coronavirus pandemic..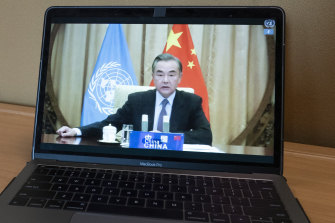 "Unilateral sanctions and long-arm jurisdiction needs to be opposed in order to safeguard the authority and sanctity of international law," he said.
Russian Foreign Minister Sergey Lavrov followed up taking aim at the United States over it casting blame, and over international sanctions.
"In a whole number of countries there is a temptation to look abroad for those who are responsible for their own internal problems," he said. "And we see attempts on the part of individual countries to use the current situation in order to move forward their narrow interests of the moment in order to settle the score with the undesirable governments or geopolitical competitors."