Mike Pompeo says transition will be 'smooth' to 'second Trump term'
Follow Us SearchSearch Keyword:
SIGN UP FOR OURDAILY NEWSLETTERS
Breaking News AlertsEnter your email address:
FRONT PAGE PODCAST
RECOMMENDED



SPONSORED CONTENT

RECOMMENDED
COMMENTARY

Unhinged Democrats take aim at Republican voters

An election in the era of conspiracies

Biden and Dems' version of 'healing and unity' means bowing to their policiesView all
QUESTION OF THE DAY
Will Nancy Pelosi be Speaker in the new Congress?
Question of the Day YES NO NOT SURE
View results
STORY TOPICS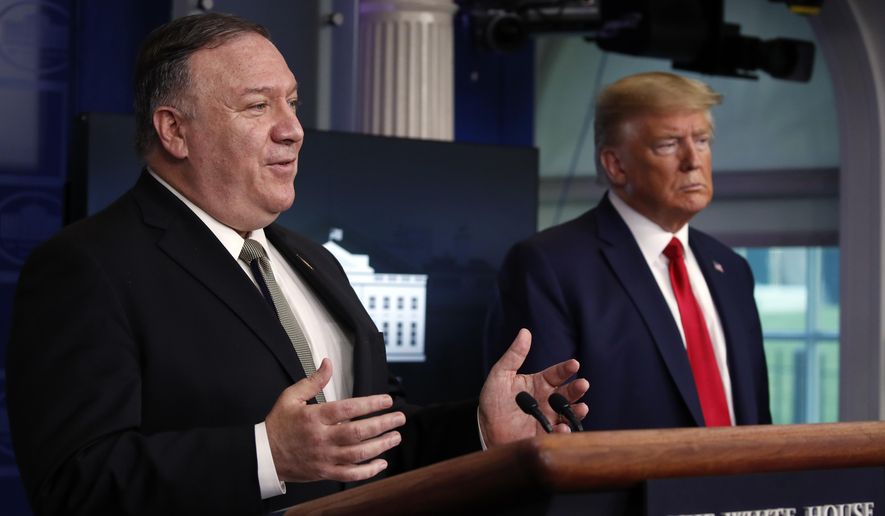 PrintBy Guy Taylor– The Washington Times – Tuesday, November 10, 2020
Secretary of State Mike Pompeo asserted Tuesday that he believes President Trump will emerge as the winner of last week's election, despite mainstream media coverage backing presumptive President-elect Joseph R. Biden's claim to victory.
"There will be a smooth transition to a second Trump administration," Mr. Pompeo said when asked during a press conference at State Department headquarters whether the department is preparing to engage with the Biden transition team.
In his first public remarks on the election result, Mr. Pompeo said Mr. Trump is fully within his rights to challenge the vote counting and expressed confidence the final outcome will be in Mr. Trump's favor.
---
TOP STORIES
McCabe: 'I accept responsibility' for faulty Carter Page FISA warrant
Sen. Kennedy rebukes Pelosi on coronavirus talks: 'She's drunk'
Oregon elections director fired after reporting problems
---
"We must count every legal vote. We must make sure that any vote that wasn't lawful ought not be counted," the secretary of state said. "When we get it right, we'll get it right. We're in good shape."
Mr. Pompeo separately bristled at a reporter who asked whether Mr. Trump's unwillingness thus far to concede has discredited the State Department, which has a history of issuing statements encouraging free and fair elections in other nations and of reminding the losers in such elections to accept the results.
---