Obama tees off on Trump in contempt-loaded new memoir
Follow Us SearchSearch Keyword:
SIGN UP FOR OURDAILY NEWSLETTERS
Breaking News AlertsEnter your email address:
FRONT PAGE PODCAST
RECOMMENDED



SPONSORED CONTENT

SPONSORED CONTENT

COMMENTARY

Democrats' plea for 'unity' rings hollow

Barack Obama bashes America (again)

Biden wants end to 'demonization,' but where's his apology for calling Trump and supporters racists?View all
QUESTION OF THE DAY
Should a COVID vaccine be mandatory?
Question of the Day YES NO NOT SURE
View results
STORY TOPICS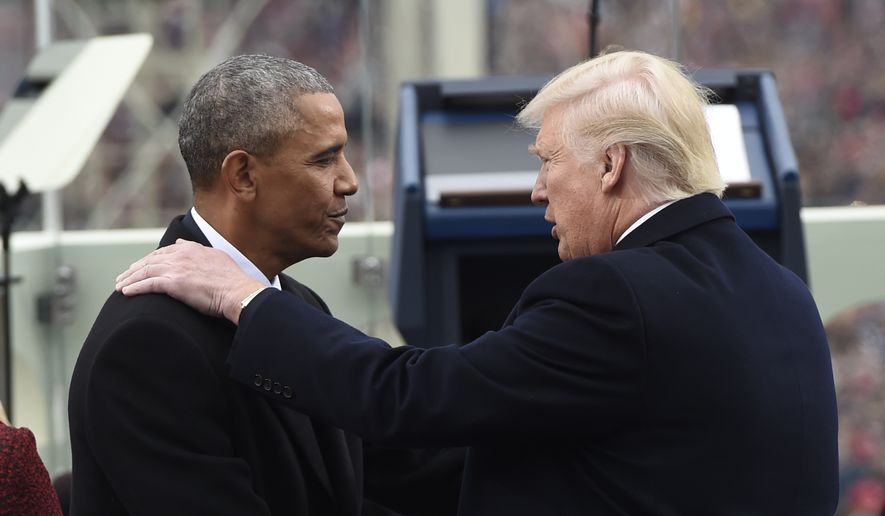 PrintBy Dave Boyer– The Washington Times – Updated: 11:24 a.m. on Wednesday, November 18, 2020
Former President Barack Obama, selling his new memoir, sounds like someone who is still unaware that his FBI spied on the Trump campaign in 2016.
In a book-tour interview with Oprah Winfrey, Mr. Obama says he's eager for presumptive President-elect Joseph R. Biden "to re-establish that we don't use the Justice Department, for example, to go after political enemies."
Operation Crossfire Hurricane, anyone?
---
TOP STORIES
Conservatives do liberals' work by trying to weaken Fox News
Lawmakers jet to Hawaii conference with lobbyists despite travel warnings
Photos show Gavin Newsom mingling without mask at French Laundry restaurant: Report
---
Mr. Obama went on to say that Mr. Biden and Vice President-elect Kamala D. Harris will demonstrate in office that "we don't mingle personal business interests with the business of government."
Hunter Biden, anyone?
---
---
The mutual contempt between Mr. Obama and President Trump, which dates to Mr. Trump's baseless questioning in 2011 of Mr. Obama's birth, is evident in the former president's memoir "A Promised Land," released Tuesday. Former first lady Michelle Obama also took a whack at Mr. Trump this week, saying his refusal to cooperate on a transition with Mr. Biden is putting "our country's health and security in danger."