Portland protests: US federal agents 'will not retreat', Chad Wolf says
Related Topics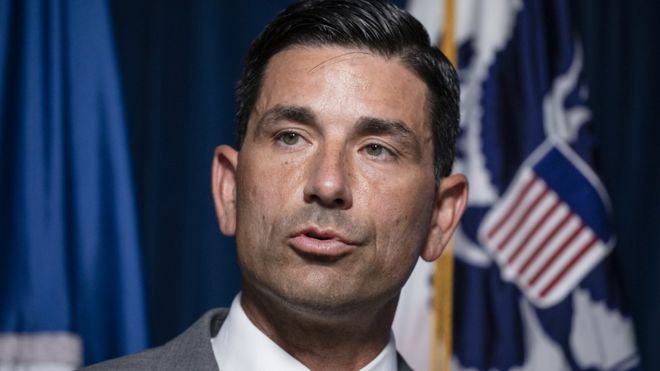 US Homeland Security Secretary Chad Wolf has said federal agents "will not retreat" in their efforts to protect government buildings in Portland.
"If you are a violent rioter looking to inflict damage to federal property or law enforcement officers, you need to find another line of work," he said.
US President Donald Trump sent federal agents to Portland in Oregon to end weeks of anti-racism protests there.
But the mayor of Portland has called for them to leave the US city.
There have been nightly protests against police brutality in Portland since the death of George Floyd, an unarmed black man, in Minnesota in May.
In recent days, however, violent clashes between demonstrators and federal law enforcement officers have escalated.
What did Chad Wolf say about the violence?
Speaking during a press conference on Tuesday, Mr Wolf said federal law enforcement officers in Portland were only targeting and arresting demonstrators who had been identified as being involved in "criminal activity".