Putin says he could send police to Belarus if necessary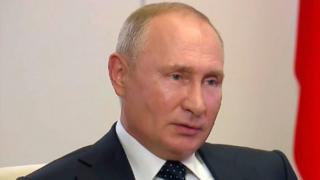 Russian President Vladimir Putin says he has formed a police reserve force to intervene in Belarus if necessary, but that point has not yet been reached.
Speaking on Russian state TV, he said Belarus President Alexander Lukashenko "asked me to set up a certain police reserve" and "I have done so".
"We also agreed that it won't be used until the situation gets out of control," he told Rossiya 1TV.
Mr Lukashenko's disputed 9 August re-election triggered huge protests.
Separately, at least 13 journalists – including a BBC team – were detained in the centre of the capital, Minsk, ahead of a planned opposition protest. The interior ministry said they had been taken to a police station for identity checks, but the BBC's Steve Rosenberg said it was a "clear attempt to interfere with coverage of events".Skip Twitter post by @BBCSteveR
Tonight we were detained by police in the centre of Minsk, held at a police station for two hours for "document checks". Same thing happened to many other journalists. A clear attempt to interfere with coverage of events in #Belarus— Steve Rosenberg (@BBCSteveR) August 27, 2020
End of Twitter post by @BBCSteveR
'Levelling out'
Mr Putin said Russia had an obligation to help Belarus with its security under the two countries' close alliance, and he stressed the deep cultural, ethnic and linguistic ties between the two nations.
He said the new reserve force would not go into Belarus unless "extremist elements using political slogans as cover cross a certain