Report: Chiefs, Texans players planning demonstration before season openerMike Alessandrini10h agoJamie Squire / Getty Images Sport / Getty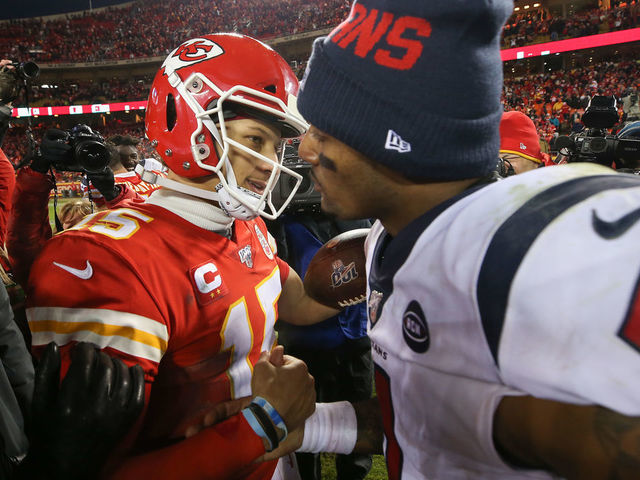 Kansas City Chiefs and Houston Texans players are discussing a joint demonstration to make a statement on racial injustice and display unity before Thursday night's NFL season opener, sources told NFL Network's Tom Pelissero.
One possible idea involves both teams staying in their locker rooms during the national anthem.
The situation is still fluid and final plans remain unfinalized, Pelissero adds. Leaders from both clubs involved include Patrick Mahomes, Deshaun Watson, and Kenny Stills.
The NFL plans to implement more content addressing social and racial injustice to its Week 1 slate this season and is encouraging players to use their voices.
Several teams canceled training camp practices last month in protest of the shooting of Jacob Blake by police in Wisconsin on Aug. 23. Players have been vocal in demonstrations since the incident, and a few prominent Black players discussed sitting out a game to force action.
Some NFL players have chosen to stay off the field until after the national anthem in recent years. The league has never disciplined athletes for demonstrating during the anthem, an agreement that remains in place with the NFLPA.TwitterRedditFacebookEmailCommentsHEADLINES
Prescott dealt with anxiety, depression after brother's suicide
8 storylines for an uncommon 2020 NFL season
Report: Sutton day-to-day after injuring shoulder in practice
Fantasy: Week 1 Rankings (Updated)
2020 NFL predictions: Who will win Super Bowl LV, major awards, and more?
ADVERTISEMENThttps://2c2ec80228a2a50caf7c6d1f52d1e721.safeframe.googlesyndication.com/safeframe/1-0-37/html/container.htmlDAILY NEWSLETTERGet the latest trending sports news daily in your inboxSubscribeMORE STORIES2020 NFL Preview11h ago•NFL upset of the week: Brady, Bucs will spoil Saints' home o…4h ago•Clowney: Vrabel was key factor in choosing to sign with Tita…4h ago•Ertz playing 'like it's my last year' with Eagles amid contr…6h ago•Report: Broncos expressed interest in Matthews, couldn't ag