Scientists target coronavirus immunity puzzle
By Rebecca MorelleScience correspondent, BBC News
Related Topics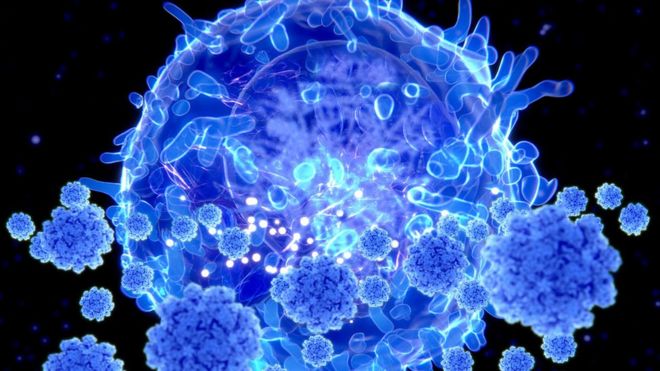 A new effort is under way to understand how the immune system responds to coronavirus.
Scientists from 17 UK research centres are attempting to answer questions such as how long immunity lasts and why disease severity varies so much.
The new UK Coronavirus Immunology Consortium (UK-CIC) says learning about immunity will help to fight the virus.
It has received £6.5m from UK Research and Innovation (UKRI) and the National Institute for Health Research (NIHR).
Prof Mala Maini, a viral immunologist from University College London, who is leading one of the UK-CIC teams, said: "Our immune response to a virus is really what dictates how we respond when we get infected, how ill we get when we get an acute infection, how long we're protected after we've had the infection and how well we might respond to a vaccine.
"The immune system is underlying everything that's key to the response to this virus."
Coronavirus immunity: Can you catch it twice?
The people with hidden immunity against Covid-19
Hong Kong reports 'first case' of virus reinfection
Does getting coronavirus make you immune?ADVERTISEMENT