Senior officer says border migrant flow will only worsen
By Lyda Longa lyda.longa@myheraldreview.com
Mar 28, 2021 Updated 6 hrs ago
Stay Informed. Subscribe For Only $2.77 Per Week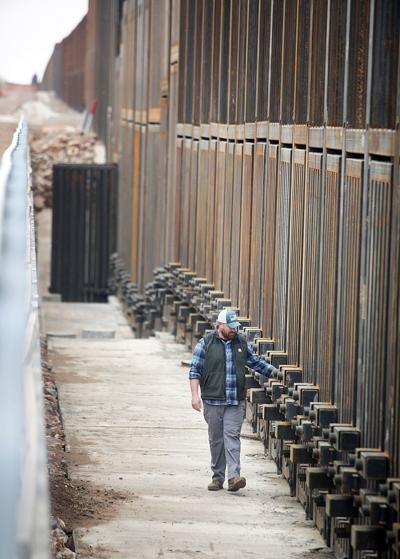 ---
---
---
The situation with undocumented migrants flocking to the Southwest border of the United States from Mexico is only going to worsen, a senior Border Patrol agent warned Friday.
The agent, who spoke to various media outlets during a conference call, said at least 380,000 undocumented people had been apprehended at the Southwest border in February and the numbers would be higher for March and beyond.
The agent spoke on background with the agreement that media would not reveal his name.
"I fully expect to see the numbers increase as we go into the summer months," the senior agent said, concerning migrant crossings.
In Cochise County that warning has begun to bear out near Douglas and in Willcox, where the already stretched-thin Border Patrol is arresting more single adults attempting to slip into the country or taking in and processing children who are flocking to the border unaccompanied.
Douglas Mayor Donald Huish said Friday the latest information he received this week from Border Patrol agents at the station just outside Douglas is that they're confronting and repatriating about 100 single adults daily who are trying to slip in illegally.
"They are getting closer and closer to town," Huish said.
What concerns Huish even more is that Border Patrol agents from the Douglas station are being pulled out to help in busier areas such as Yuma and Tucson.
"They're siphoning them off to the western part of the state and leaving us with a skeleton crew," Huish said.
In Willcox, Mayor Mike Laws said he was told two weeks ago by the Border Patrol there were 54 unaccompanied children at the Border Patrol station.
"That was two weeks go. Who knows now?" Laws said. "The station can only hold up to 81."
Laws said he was told by Border Patrol that a "third party" has been arriving at the facility and taking 10 to 20 children to Phoenix by via bus. The mayor said he does not know how often the transportation comes or who the third party is.
"We have not seen anyone (undocumented migrants) running the streets so far," Laws said. "All we have is the youths, but we don't see them either."
Laws and Sierra Vista Mayor Rick Mueller said citizens in their respective communities would gladly help the undocumented migrants but there aren't enough resources available to do so. Laws, Mueller and other mayors in Cochise County signed a letter recently asking the federal government for help with the matter.
Last week, the town of Gila Bend, which has