Trump administration can end census count early, supreme court rules
Ruling despite warnings that it would result in inaccurate data
Counting was scheduled to end on 31 October
Sam Levine in New York
Tue 13 Oct 2020 18.51 EDTLast modified on Tue 13 Oct 2020 20.10 EDT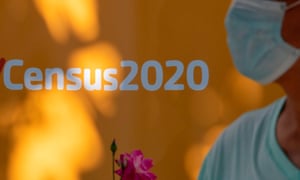 The US supreme court will allow the Trump administration to immediately end counting for the 2020 census, despite warnings that doing so would result in inaccurate data with severe consequences for the next decade.
The ruling essentially cuts short counting every living American resident, scheduled to end on 31 October, by two weeks. The court did not offer any explanation for its order, which came after the Trump administration asked the justices to pause a lower court ruling extending the count while the case was appealed. Only Justice Sonia Sotomayor said she would have blocked the request to halt the proceedings.
"Meeting the deadline at the expense of the accuracy of the census is not a cost worth paying, especially when the Government has failed to show why it could not bear the lesser cost of expending more resources to meet the deadline or continuing its prior efforts to seek an extension from Congress," Sotomayor wrote in her dissent.
Lower courts had ordered the Trump administration to extend counting until 31 October. The decennial survey, used to draw electoral districts and allocate $1.5tn in federal funds, was originally scheduled to end 30 September, but the Trump administration originally sought a one month extension earlier this year, pointing to delays because of the coronavirus pandemic.Advertisementhttps://tpc.googlesyndication.com/safeframe/1-0-37/html/container.html
In late August, the commerce department, which oversees the Census Bureau, abruptly reversed its position, saying it would try and complete counting by 30 September and deliver the data used to determine how many seats in Congress each state gets by the 31 December statutory deadline. The reversal came even after the bureau's own experts warned they could not meet those deadlines.
"It is ludicrous to think we can complete 100% of the natio